Adler
Collection name:  Adler
Collector: John James Adler, MBE, JP (1935-2011)
Accession numbers : LIVNP 2001.07, 2010.14 and 2010.20
John was born on 16 September 1935, the son of Commander Alan Louis Adler RNVR, and passed away on 18 March 2017. He married Hilary Drew in 1962 and they had four children, Michael, Fiona, Julia and Harry. John had a long and distinguished career in business, and had a lifelong passion for pipes as he followed the family into the briar pipe manufacturing trade.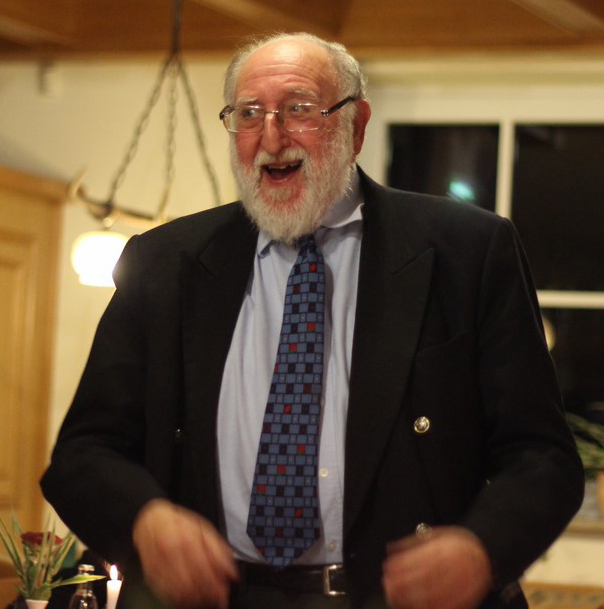 John James Adler, 16 September 1935 - 18 March 2017.
He held numerous senior posts, including that of Chairman for a wide range of organizations such as Cadogan Investments Ltd. (1970-95; Managing Director from 1966); The Tobacco Trade Benevolent Association (1977-82 and from 2009 onwards); A. Oppenheimer & Co. Ltd (1979-95); Mid Essex Hospital Services NHS Trust (1991-1994); Eastern Counties Rugby Referees (1987-92, later President); the Board of Visitors at H.M. Prison, Chelmsford (1985-87) and of the Benevolent Fund of the Worshipful Company Tobacco Pipe Makers and Tobacco Blenders.
John also held a number of Directorships, including Thetford Moulded Products/Centurion Safety Products (1968–2000), National Trading Pty Ltd (South Africa) and various subsidiaries of Cadogan Investments Limited (A. Oppenheimer & Co. Ltd. (USA); H. Comoy Ltd. (USA); R&H Products Ltd. (Canada); Baden P. Morris Ltd. (Australia); C. J. Verguet Freres (France); Ropp Pipes (France); La Bruyere (France); Chapuis Comoy (France); Oppenheimer Pipes Ltd.; A. Frankau & Co. Ltd.; Civic Co. and H. Comoy).
Other distinctions he had were as Master of The Worshipful Company of Tobacco Pipe Makers and Tobacco Blenders (1982/83), he was made Ritter Miltenberg (1990), awarded an MBE (2007) and served as a Justice of the Peace (1987–2005). John was a supporter of many charities and a very generous anonymous benefactor to many organisations, including the NPA. Although John was not one for writing articles or presenting papers at conferences, he was a font of knowledge on the briar trade and delegates to the 2011 conference of the Académie Internationale de la Pipe in Novi Sad will remember his demonstration of how briars were wrapped for sale. He arranged for a number of important items connected with the trade to be deposited with the NPA. His own collection encompassed fine pipes from around the world in a variety of materials as well as trade catalogues and other ephemera connected with the industry. Generous to the last, John made arrangements for some of this material to be left to the NPA, where it will provide a lasting legacy in remembrance of this quiet and unassuming man for whom pipes were such an important part of his life.
Key items from the Adler Collection that have been presented to the Archive include the following:-
Civic Company Price Lists
The Civic Company Ltd of London was formed in 1921 out of the Imperial Tobacco Company (Fancy Goods Department) Ltd, which was located in Fulham Palace Road Hammersmith. The Imperial Company itself was formed in 1901 in response to an aggressive take over raid in Britain by American Tobacco and involved the pooling of tobacco retail outlets including closely related items such as briar pipes. In 1902 Imperial purchased the Salmon & Gluckstein retail empire, which included a section that finished briar pipes, originally made in France, for sale in Britain. It is this unit that became the fancy goods department within Imperial and ultimately, in 1921, the Civic Company. In 1928 Civic formed a key element in the merger with other producers and retailers that formed Cadogan Investments, which still trades today.
The Archive holds digital copies of prices lists from 1921 and 1922 - these can be viewed by clicking on the links below.
Briar Pipe Stamps
A collection of metal dies used by the Civic Pipe Company of London to stamp marks on briar pipes was presented to the NPA by John Adler in 2011. The dies are stored on four boards with perforations to receive them. There is a drawing of the stamp alongside the appropriate perforation (Acc. No. LIVNP 2011.07).
| | |
| --- | --- |
| | |
| Two of the four boards containing the metal dies. | Detail of some of the dies. |
Briar Pipe Pattern Book
A briar pipe pattern book dating from 1918 that had originally belonged to the Civic Company of London was presented to the NPA by John Adler in 2010. The book contains 51 pages of original drawings featuring 220 briar pipes giving names in French and English and dimensions in millimetres. The drawings and measurements seem to have been made originally in France and the book appears to mark a transfer of production from France to England after the First World War. A detailed description and account of this book had been published in the Journal of the Académie Internationale de la Pipe (Davey 2009; Acc. No. LIVNP 2010.20).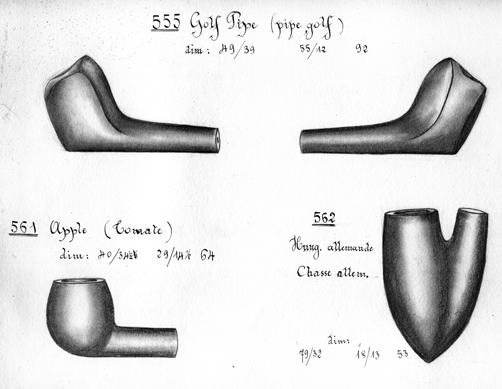 Sample page from the briar pattern book.
Briar Pipe Trade Association Collar
The presidential collar of the former Briar Pipe Trade Association was presented to the NPA by John Adler in 2010. The blue, white and gold enamelled badge is set in silver (the mark is probably that of Wm James Dingley of Warstone Lane, Birmingham; the date letter appears to be that for 1958). The badge is set within a decorative gold coloured metal mount and is attached to a blue collar with 22 gold coloured metal name plates (11 on each side). The names are of past presidents, including M. Barling and P. Comoy (Acc. No. LIVNP 2010.14).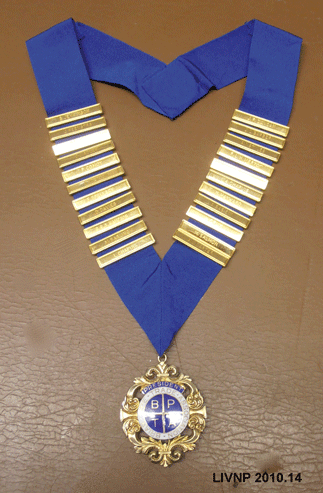 Briar Pipe Trade Association collar.

Reference

Davey, P. J., 2009, 'The Civic Company's briar pattern book', Journal of the Académie Internationale de la Pipe, 2, 153-175.

Back to Collections