Clay Pipes
The Archive holds a number of very substantial groups of clay pipes. The following details provide an overview of each of these collections. Click on the collections below to find out more.
Atkinson: Collection made by David Atkinson (1934-2011) over at least 50 years.  The collection consists of published books and papers as well as manuscripts and notebooks. An estimated 4,000 matchboxes from the 1940s and 1950s.  The collection of pipes is estimated to be in the region of 20,000, mostly fragments and mainly from the four areas of England that David was most actively researching, i.e., Sussex, London, central southern England and the Broseley area although there is also some foreign material.  The collection also includes other items that interested David Atkinson including approximately 500 lead cloth seals that were found with the pipes in the Thames.
Bijlmer: Collection derived from excavations of the Bijlmer Dyke, near Amsterdam, Netherlands in the 1980s and 1990s.  The collection consists of approximately 11,000 pipe fragments from the seventeenth to nineteenth century, as well as pipe clay figurines.
Cooper: David Cooper  (1929-2007)  trained at the pipeworks of John Pollock & Co, Manchester, in 1987.  Having purchased an original Victorian press and moulds with which to make pipes he initially set up a workshop at his home in Hampshire before acquiring a workshop at Amberley Museum in West Sussex where, in 1995, he was said to be producing some 5,000 pipes per year.  Following his death in 2007, David's widow, Paddy, donated a collection of objects to the Pipe Archive.  These objects included pipe making tools, drying racks and a sagger; pipes produced by David himself as well as a collection produce by Pollocks of Manchester and Wilson's of Sharrow Mills, who had purchased Pollock pipes as a going concern in 1991.  Other items include meerschaum cheroot holders and pipes; a small collection of Dutch pipes maid by Adrie Moerings and a small number of publications. A small selection of items from the Cooper Collection are currently on display at the Victoria Gallery and Art Museum (VG&M) in Liverpool.
Elkins: Collection made by Peter Elkins from the surface of the Thames foreshore from c1967. The collection consists of around 1,000 pipes with stamped marks on them as well as several thousand more seventeenth and eighteenth century pipes, principally collected from the Queenhithe area. Many of the eighteenth century pipes have moulded initials on them and there are good collections of eighteenth century Armorial pipes as well as nineteenth century marked and decorated pieces. Material from outside of London includes finds from Bristol, Broseley, Salisbury, and East Knoyle in Wiltshire. From further afield, there is a group of unprovenanced Dutch finds, and a group of Dutch pipes collected in Copenhagen. The collection as a whole probably comprises in excess of 5,000 items.
Hammond: Peter Hammond (1959-present) is a pipe collector and researcher who specialises in British products of nineteenth and early twentieth century date.  He has amassed by far the largest and most wide ranging reference collection of British pipes of this date ever to have been assembled and has been publishing papers on pipes since 1973.  When he began collecting in 1972 he started an illustrated catalogue of his collection (the 'Hammond Notebooks'), a bound copy of which was made for the Pipe Archive in 1990, with subsequent volumes being scanned in 2016.  The notebooks describe and illustrate more than 3,000 pipes from his collection and provides the most extensive corpus of nineteenth century and later marked and decorated British pipes that is currently available.
Tatman: This is made up of some 10,000 or more pipes mostly collected from the Thames foreshore by Colin Tatman, although there is some material from other parts of the UK as well. The collection includes a wide range of pipes from the seventeenth through to the nineteenth century, as well as hair curlers and clay marbles. Bound copies of his note books, comprising some 4 large volumes together with copies of correspondence with other pipe researchers, make this a very important part of the NPA collection.
Thompson: Dr Richard Thompson, a senior entomologist from the Natural History Museum, London, started collecting pipes in the 1940s as a child when his father was gardener at the Bishop's Palace in Salisbury.  The collection includes small groups of pipes from Oxfordshire, Leicestershire and Yorkshire in Midlands and North to Hereford, Bristol and Devon in the west and Wiltshire, Hampshire and Surrey in the south. As well as a large groups from London.
Woollard: In July 1994 Geoff Woollard, a resident of Diss in Norfolk, found a clay pipe in a ploughed field on the edge of Royden Fen, whilst walking his dog. The collection includes mostly clay pipe bowls and stem fragments although there is also a selection of artefacts covering many thousands of years, from prehistoric flints to modern ceramics. In 2016 Diss Museum donated the pipe collection to the NPA with a handful of type examples being retained for public display.
Other Clay: This page includes the smaller groups of clay pipes that are held with the Archives Collection. Currently these include a group of pipes from Theresinfeld, Austria. We will be adding to this section over the coming weeks and months.
We are still working on this page but will be adding more summaries soon - so watch this space.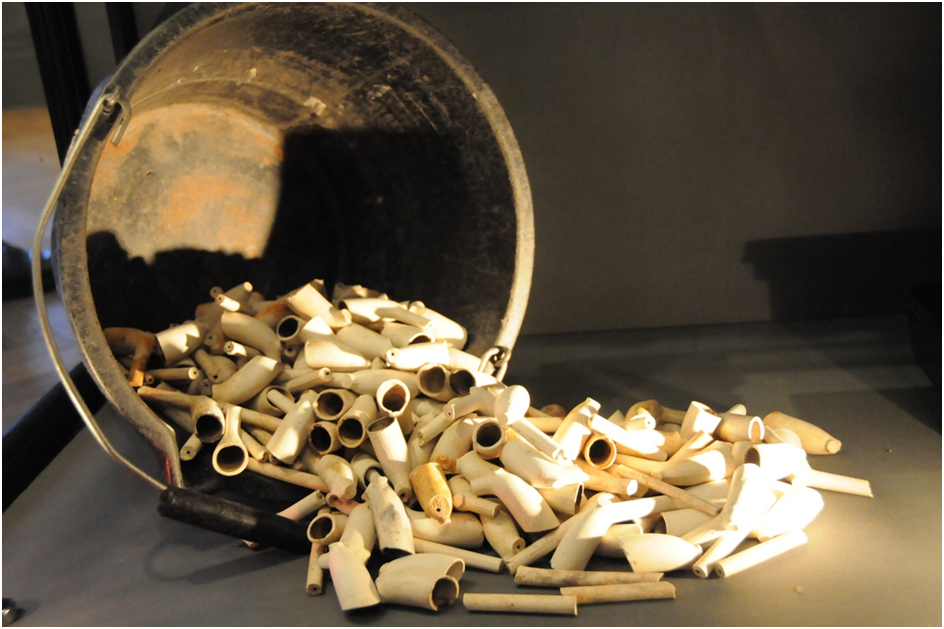 This page

Back to Collections