Pollock
Gordon Pollock, the last true, commercial, pipe-maker working in Britain, died on March 11th 2013, aged 98. He was the third generation of Pollock pipe-makers, the company having been founded in Manchester in 1879 by his grand-father. Most of the companies' working tools were sold in the early 1990s to Wilsons at Sharrow Mills, Sheffield where they continue to make Pollock Pipes.
About 100 other moulds went to the USA where they have been sold to researchers. The Museum of Science and Industry in Manchester also has a further 100 or so moulds, samples of pipes and pipe-clay products and some documentation.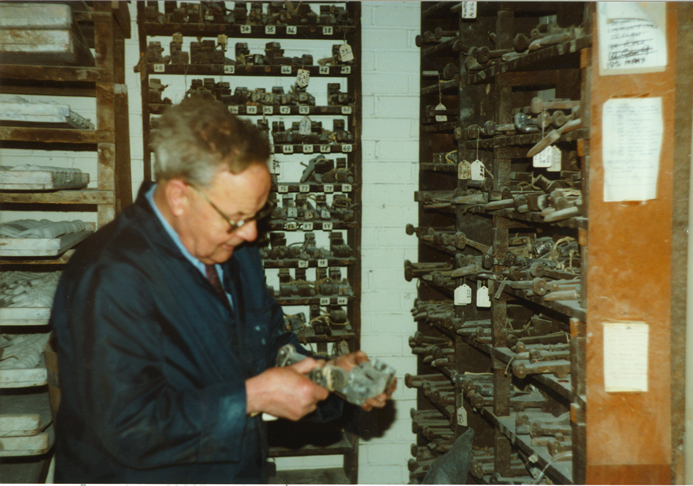 Gordon Pollock in his mould store.
The Pollock family has kindly donated the remaining company archive to the NPA. It was brought to Liverpool during the latter part of March 2013 and consists mainly of papers, pipes, tools and photographs.
Papers
There are over 120 A4 box files of paper archives. These include order books, ledgers, receipts, advertisements, publicity material, financial documents relating to the pipe works, including an original catalogue, as well as correspondence with customers, suppliers and more importantly reports to and from his father. It is not complete, by any means, but spans the period from at least 1911 through to the sale of the works in 1991.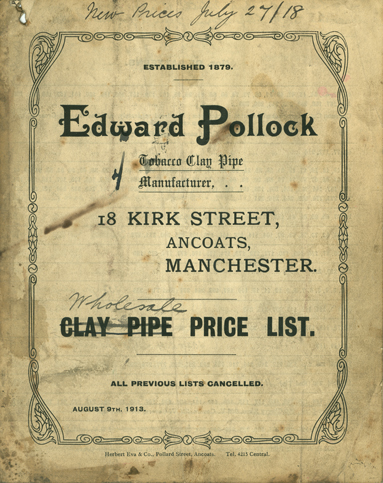 Wholesale price listed dated 27 July 1918.
Pipes and tools
There is a small collection of Pollock pipes, some pipes by other manufacturers and a range of fittings for the pipes including mouthpieces, vulcanite stems, metal mounts etc. as well as some working tools: three moulds (two of which are for miniature pipes); three chests; a screw; runners; gin handle; head and handle and various wires.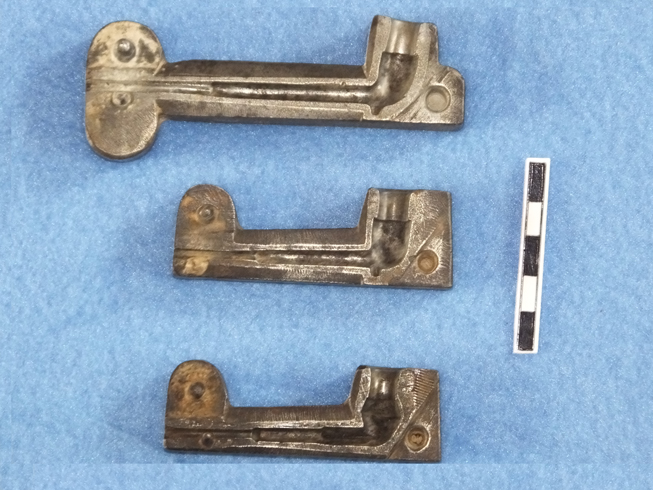 Three miniature moulds.
Photographs
The collection includes glass photographic plates that may require some specialist cleaning/conservation and some VHS video tapes of films from the works. If these videos are still viable they will be converted to digital format for safer long term curation. There is also an estimated 10 A4 box files of photographs which include some of the works, the workers, and a full set of photographs of the moulds taken by the company's archivist, S. Paul Jung Jr.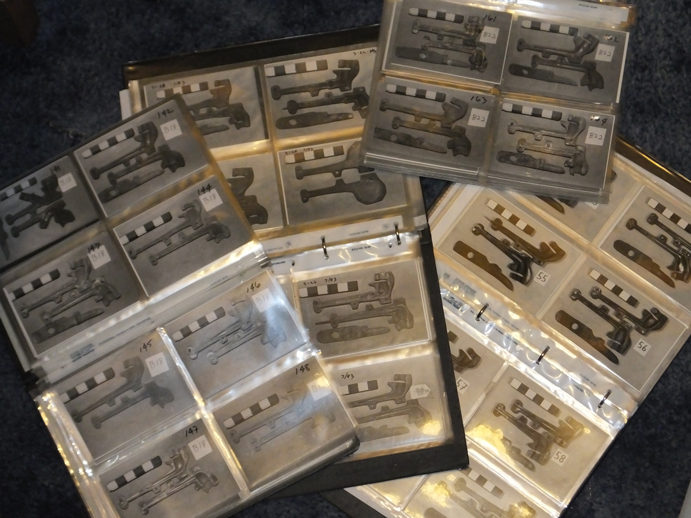 Photographic catalogue of Pollock moulds.
Sorting and cataloguing this very important archive will be a substantial task and a major challenge for the NPA in the future.
Back to Clay Pipes