Atkinson
Collection name:  Atkinson
Collector: David R Atkinson
Accession number: LIVNP 2012.06
When David Atkinson sadly passed away at the end of 2011 he left behind a legacy of over 50 years of published pipe research as well as a large quantity of notes, correspondence, books and a huge reference collection of pipes that he had amassed over the years.   Trustee David Higgins worked with members of the family to secure this collection for the benefit of future generations and we are pleased to report that it has now been donated to the National Pipe Archive.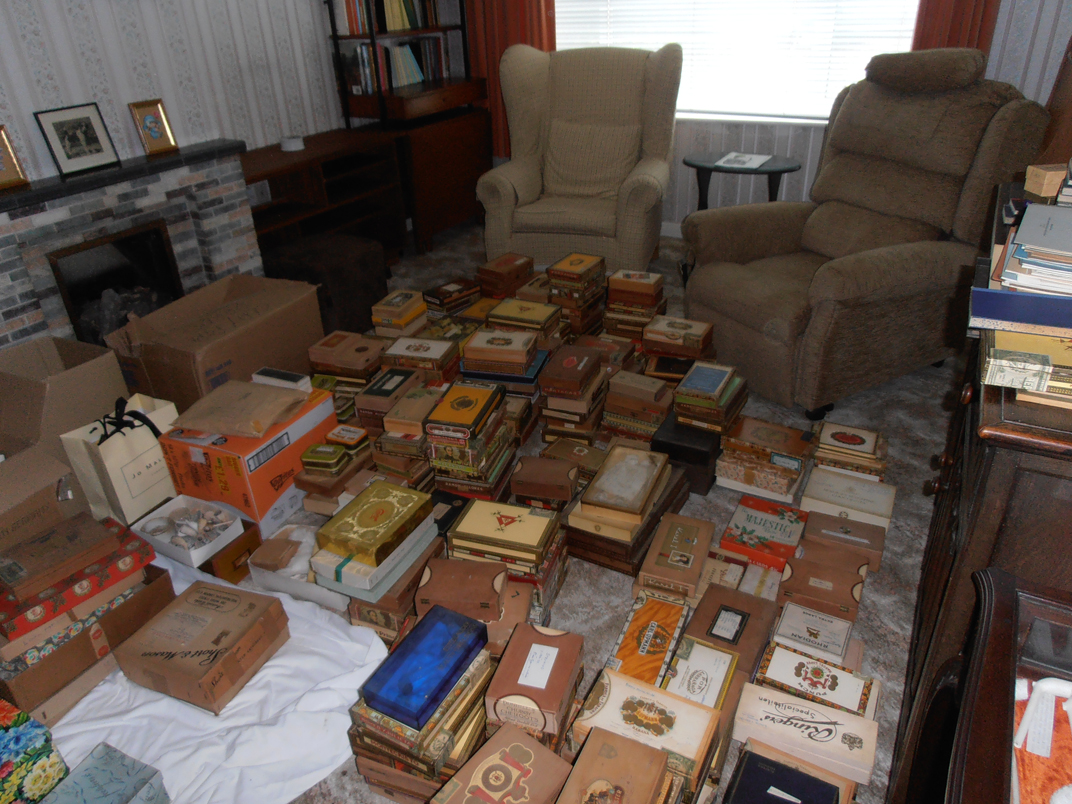 Part of the Atkinson archive awaiting collection.
Books and Paper Archive
The collection contains well over a hundred printed books and off-prints relating to pipes from all over the world (but mainly from the United Kingdom).  The items in the Atkinson collection include a number of papers published by David himself that were not included in the initial bibliography of his works that was compiled for SCPR 80 (Higgins 2011, 4-9).  A full bibliography of his works has been posted on the SCPR Website.
There are also approximately two filing cabinet drawers of notes, letters and drawings.  The majority of this paperwork had been arranged by David into either site specific files, or into files by correspondent.  This structure has largely been maintained and a large pile of unsorted correspondence has been added into the existing system.  Some reorganisation has been made to standardise the geographic files into a county groups, sub-divided by site, and each file has been given a National Pipe Archive accession number.
Other paperwork includes an index of marked pipes, together with provenances of where they were found, which are set out in two notebooks.  There are five albums of mounted match box labels, a few sets of cigarette cards, a set of lecture slides (with prints of at least some of the same) and a card index of pipe makers, which is divided into three separate sections.  The first two sections are regional indexes covering two of his main study areas, Sussex and Broseley, while the third covers the rest of the country.  The cards contain a fairly brief summary of the evidence for each maker, rather than detailed individual references or transcriptions.
The final element of the paper archive is of particular interest, since it comprises 17 small hard backed notebooks containing drawings and information on pipes from various parts of the country.  The drawings of the bowl forms and marks are of good quality and provide a valuable reference source for anyone researching the products of a particular area.  There are two books covering Bristol pipes; four on Broseley; six on London; one on Salisbury/Marlborough; one on Somerset; one on Sussex and two miscellaneous volumes.
| Acc. No. | Notebook |
| --- | --- |
| | Pipes found at marlborough Wiltshire, also from Salisbury. |
| | Sussex pipes and pipemakers. |
| | Somerset pipes. |
| | C17th Bristol pipes. |
| | C18th Bristol pipes. |
| | Pipes found at Broseley and in the Shropshire area (book 1). |
| | Broseley pipes (book 2). |
| | Broseley pipes (book 3). |
| | Broseley stem marks. |
| LIVNP 2012.06.225 | London pipes with makers' marks stamped. |
| LIVNP 2012.06.226 | London stamped marks C17th-18th (book 1a). |
| | London C19th pipes with names etc. moulded (book 2), plus stamped marks continued. |
| | London C19th pipes with makers' marks (book 3). |
| | London C19th pipes with names moulded on stems (book 4). |
| | London early pipes with moulded initials (book 2). |
| LIVNP 2012.06.231 | Various makers' marks (book 1). |
| LIVNP 2012.06.232 | Various makers' marks (book 2). |
Cigar and Match Boxes
The collection includes a large number of wooden cigar boxes, around 200, the majority of which have been used as containers for groups of pipes.  As a result most have labels or writing on them, but they still represent an interesting and varied collection of cigar boxes.  It is intended to retain the boxes with the pipe groups inside them.  There is also a very large collection of complete match boxes, estimated at around 4,000 examples, which have clearly been collected over quite a period of time (David appears to have collected them from the 1940s or 1950s onwards).
Clay Tobacco Pipes
By far the largest part of David's collection comprises reference groups of pipes that were collected from various parts of the country.  There are around 250 boxes of pipes in total, the majority of which are small cigar boxes containing individual groups or particular types of pipe.  But there are also some very large boxes containing bulk material, particularly from the Thames.  Most of the boxes are labelled with either a provenance or an indication of the nature of the pipes that they contain.  There is some foreign reference material, for example, a few Dutch pipes, but the majority come from the four areas of England that David was most actively researching, i.e., Sussex, London, central southern England and the Broseley area.  It is likely that many of the pipes illustrated in his papers or notebooks are contained within these boxes, which makes the fact that the paper archive and the objects  have been kept together particularly relevant.  In total, there are estimated to be in the region of 20,000 pipes in the collection.  Many of these pieces are fragmentary but the collection contains a good number have been kept specifically because they have stamped marks on them.
Trade Tokens, Cloth Seals and Miscellaneous Items
As well as collecting pipes, David had a wide range of other research interests and several of his other collections, such as prehistoric flint work and information on South Downs busses, have been placed with more  appropriate museums elsewhere.  There are, however, a small number of items that have remained with the pipes, either because they are related objects or because they were almost certainly collected from the same sections of Thames foreshore as the bulk of his pipes.  There are nine seventeenth or eighteenth century trade tokens that were either issued by tobacco, snuff or pipe makers and a very large collection (around 500 examples) of lead cloth seals that were found with the pipes in the Thames.  There is also a small collection of pottery that was almost certainly also found in the Thames and which includes a wide range of Post-Medieval wares, including quite a number of stoneware fragments with applied medallions or face masks.  Miscellaneous paper items include some notes that he prepared on early post marks.
David spent his life enthusing others about the past and sharing the results of his labours through his publications.  One of his last wishes was that his collection should be kept together for the benefit of others and this intention has now been fulfilled.
David was one of the most important and influential pipe researchers to have worked during the second half of the twentieth century, with over 70 published papers to his name.  He was close friends with Adrian Oswald and corresponded extensively with the other key researchers on both sides of the Atlantic.  His archive comprises one of the largest and most complete to have survived from this period and it now joins a number of other important contemporary collections in the National Pipe Archive, where it will form a lasting legacy to his life and work.
Reference
Higgins, David, 2011, 'David Atkinson, F. S. A., 1934-2011', Society for Clay Pipe Research Newsletter, 80, 2-9.
Key words: clay pipes, London, Sussex, Broseley, Adrian Oswald, Bristol, cloth seals, tobacco, match boxes
Back to Clay Pipes