Elkins
Collection name:  Elkins
Collector: Peter Elkins
Accession number: LIVNP 2012.04
Peter Elkins will be well known to anyone who has collected material on the Thames foreshore over the last forty years or so.  Peter started collecting material from the surface of the foreshore in about 1967 but soon discovered that the best material lay buried beneath the surface.  At that time it was still possible to dig on the foreshore at Queenhithe in the City of London and most of his pipes were collected from in and around that area, including nearby Bull Wharf, where a barge bed had been laid down during the later eighteenth century, effectively sealing the earlier foreshore deposits underneath it.  The pipes recovered from the Queenhithe area mainly date from the seventeenth and eighteenth centuries and they include a large number of examples with stamped or moulded marks on them.  Although most of the collection comprises material that he found himself between about 1967 and 2000, Peter also acquired some pipes from other mudlarks or exchanged duplicates with other collectors, most notably David Atkinson, with whom there is also supporting correspondence.  As a result, Peter built up one of the largest and most important collections of early stamped pipes from London that has ever been assembled.  When his collection was recorded by David Higgins in 1989 for the national catalogue of stamped pipe marks that he has been working on, it contained nearly 1,000 stamped pieces.  Queenhithe was one of the most important moorings in the city and these pipes not only reflect pipe production in the capital itself, but also from the many other areas that shipping was coming from.  This includes inland trade along the Thames from places like Reading and Oxford, coastal trade from other British ports and overseas trade, especially with the near continent.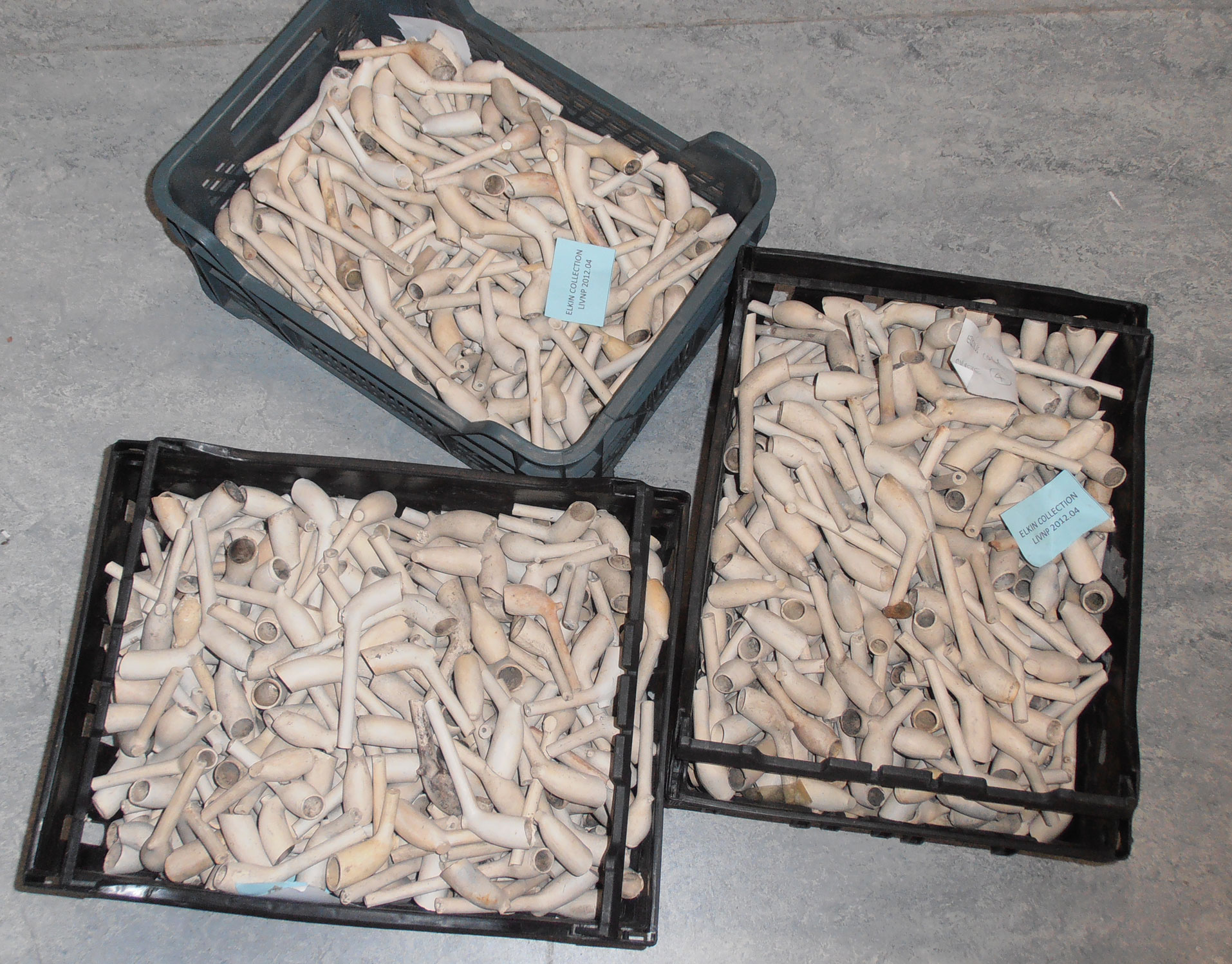 Crates of pipes as received.
As well as recovering earlier pipes from the Queenhithe area, Peter also collected a number of other important groups, such as an extremely interesting group from a mid-eighteenth century rubbish layer that was exposed in a car park access ramp when a site was being re-developed at Crabtree Wharf, at the end of Crabtree Lane, Fulham, in about 1974.  This group includes an unusually wide range of British pipes, with examples from Chester, Broseley and central southern England, as well as a spurless export style bowl and imports from the Netherlands, including an unusual design where the bowl is being held by a small boy.  This site also produced eighteenth century pipes with ink writing on them, a lot of pipes with a WT heel stamp, which are usually attributed to William Tappin, who is recorded working at Blackfriars in the 1760s, and a large quantity of Chinese looking pottery (which was not collected).  Examples of some of the pipes from this site were published in 1981 as part of an illustrated catalogue of 52 pieces from the Elkins Collection (Cheminant 1981, 160-172).  Other finds from London include a large group of late eighteenth century pipes with 'BENSON' bowl stamps from a site in Lambeth, material recovered from nineteenth century rubbish pits in Finlay Street, Fulham, in 1979 and a collection of London pipes obtained from Martin Brendell.
As well as the earlier bowl forms, Peter also built up a large collection of later decorated pipes, including examples with armorial decoration and a large number of decorative nineteenth century pieces.  He also collected some churchwarden pipes, including examples with arms or Masonic decoration on the bowls.  Most of the nineteenth century pieces were recovered from different places along the Thames foreshore or were acquired from other collectors or at fairs and so the majority cannot be given a specific provenance.  Nevertheless, they are principally from the London area and provide a good overview of the decorative styles that were being used in and around the capital, including some of the elaborately modelled or decorated pipes from mainland Europe that were being imported from manufacturers such as Fiolet and Gambier.  A lot of these later pipes also have stamped or moulded maker's marks on them and so can be used to study the later London industry, as well as the pipes from elsewhere with which they competed.
Material from outside of London includes finds from Bristol, Broseley, Salisbury (from the river bed, when the river was drained) and a group of pipes from the garden of the former Romford Arms pub at East Knoyle in Wiltshire.  There are also more than 200 pipes obtained from David Atkinson, most of which are marked.  These include a good number of West Country groups, including a lot of marks of Thomas Hunt and W. Sayer, as well as some Dutch bowls (almost certainly collected in the Netherlands) and a group of nineteenth century pipes collected from a Victorian rubbish dump at Iver in Buckinghamshire.  From further afield, there is a group of pipes, mainly Dutch, collected in Copenhagen by Tony Essary and further groups of unprovenanced Dutch finds.
Although this collection contains some interesting groups from elsewhere, its main strength lies in the London material.  There are around 1,000 pipes with stamped marks on them as well as several thousand more seventeenth and eighteenth century pipes, principally collected from the Queenhithe area.  Many of the eighteenth century pipes have moulded initials on them and there are good collections of eighteenth century Armorial pipes as well as nineteenth century marked and decorated pieces. The collection as a whole probably comprises in excess of 5,000 items and has been accessioned under the number LIVNP 2012.04.
Reference
Cheminant, Richard le 1981, 'Clay Tobacco Pipes from London and the South East', in P. Davey (ed.), The Archaeology of the Clay Tobacco Pipe, VI, British Archaeological Reports, British Series 97, Oxford, 127-172.
Key words: Elkins, Thompson, Atkinson, Queenhithe, Fulham, Crabtree Wharf, Thames foreshore, French, Fiolet, Gambier, Bristol, Broseley, Salisbury, Wiltshire, East Knoyle, Dutch, Netherlands, Copenhagen, armorial. Martin Brendell, Tony Essary.
Back to Clay Pipes